"Chicken-Style"
Pizza
Simply delicious... mushrooms, green olives, 100% plant-based no-cheese and Mediterranean strips. The only refrigerated vegan pizza; are you going to miss out?
NEW!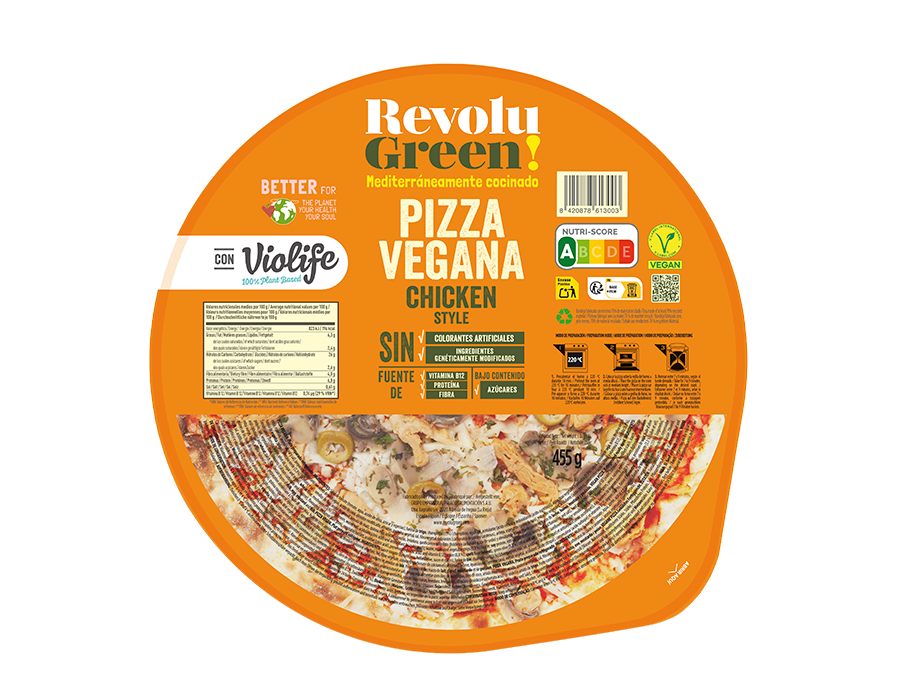 Product information
Ingredientes:
Wheat flour, tomato sauce (tomato, water, olive oil, sugar, salt and spices) water, marinated cooked soya protein strips (water, soya protein, sunflower oil, salt, flavouring, spices and dextrose), coconut oil food preparation [water, coconut oil, modified starch, starch, salt, flavouring, vegetable extract, colouring (B-carotene) and vitamin B12], mushroom [mushroom, water, salt, acidifier (citric acid) and antioxidant (ascorbic acid)], green olive (olive and salt), onion, sunflower oil, maize meal, salt, sugar, yeast, spices, raising agents (disodium diphosphate and sodium hydrogen carbonate) and wheat starch.
May contain traces of egg, milk and fish.
Modo de preparación:
Oven
Preheat the oven to 220°C for 10 minutes.
Place the pizza on the oven rack in the middle position.
Bake for 7 to 9 minutes, depending on how crisp you like it.
Average nutritional values per 100g
Energetic value
832 kJ / 198 kcal
Fats


of which saturated

6,3 g


2,4 g

Carbohydrates


of which sugars

29 g


2,6 g

Dietary fiber
2,4 g
Protein
6,2 g
Salt
1,3 g
Vitamina B12
0,62 μg (25%VRN*)